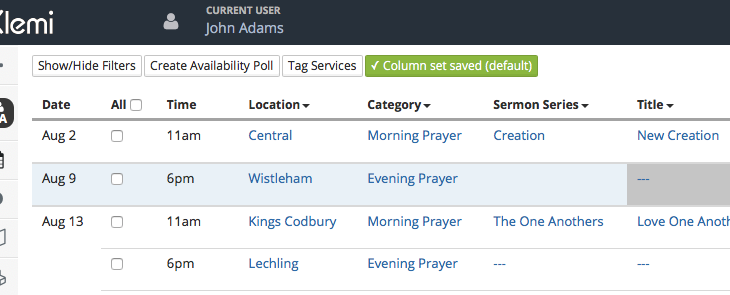 Servicemanager – The Service Grid and the Service Planner
The servicemanager allows you to plan services.
There's a  service grid for you to
fill in all the headline information (date, location, service type, sermon title, reading etc.) and share it.
You can also assign members to roles, collect availability information.
As the complexity of Sunday mornings increases you may want to create multiple service grids, each representing a different 'window' onto the same information.
There's also a service planner which gives a more in depth view of each service but still shows several Sundays at a time. It allows you to:
put together the content of services,
determine the order of songs/hymns and liturgy where appropriate
see how each decision fits in with the Sundays around it.
Klemi's interface means planning can be managed by more than one person and once a service has been compiled, klemi makes it easy to share that information.
Categories
The servicemanager starts with categories and you won't get far without them. Every service must have a category (we suggest things like 'All-age Worship' or 'Evensong'). Every service component can have any number of categories ('prayer', 'hymn', 'blessing', 'collect') that allow you to organise and easily access them when it comes to inserting them into services. Klemi will get you started with a few, but you should make sure you add your own that make sense in your own context
Components
Components are the building blocks of services. They have a title and body and belong to any number of categories. A prayer, a hymn, a blessing, an introduction, etc. are all components. The servicemanager works by allowing you to put different, pre-existing components together into a service, and to arrange them and annotate them as appropriate, saving you the bother of needing to compile services from scratch every time. We suggest you work with a 'mixed economy' of components: some components might be used the same way every time; for example, you might want to create a component called 'The Lord's Prayer', and insert the text into the body. Every time you use it you'll be saying the lord's prayer. You might also want to create components that are more flexible in their usage. Say you made a component with the title "Welcome" and an empty body. You can then add different text (whatever is appropriate to the day or theme) to it via the comments field after you add it to a service.
Hymns
Hymns (and by that we really mean, any music with words!)  are one type of component in Klemi and behave just like all the other components in the service planner. However, because hymns are so commonly used and also have their own unique attributes (like a hymn book reference, or copyright notice etc.), Klemi allows you to manage them separately. You'll want to start out by adding the hymns you use most to your library so that it's easy to slot them into your services.
Service Creation
The Service Creation Wizard (Services > Service Creation Wizard) allows you to batch create services, minimising any data input duplication.